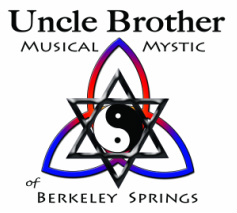 Music and laughter are great ways to be in the present, a real gift.
Uncle Brother's new show is a hoot, a love story between Uncle Brother and his bitter, uh, better half...Another Mother.
You'll be entertained; maybe even enlightened, but most certainly feel that the reason you're here is to enjoy this moment.
Are you ready to put an end to emotional pain and to heal yourself?
Learn simple ways of dealing with daily stress and strain.
Uncle Brother is a modern day Mystic with a heart of gold.
A Wandering Taoist with the wisdom and desire to help you heal.
Let me assist you in discovering answers to your challenges.
For more information on how I may help you...
please contact
iamunclebrother@yahoo.com
​
Ask Uncle Brother:
Have a question about life that you've always wondered about?
Send it to Uncle Brother in an email now, and get an answer.
Your first question is absolutely free. Get an answer or double your money back!!
Email Uncle Brother now at
iamunclebrother@yahoo
for a rapid response to your query.
Remember, "you get what you pay for"...
Click on the button below to find out more about my one man musical comedy...
Do let me know what you think about my new web site...
Open to any and all suggestions...but please be gentle. OK? OK!
Lots of Love, Light and especially laughter to you...Uncle Brother
---